Caterina Ramella Gal - Italian, English, Spanish Interpreter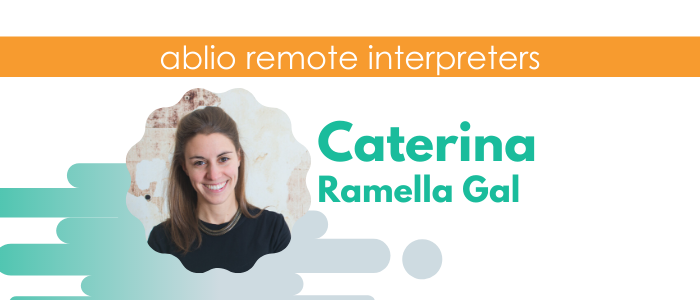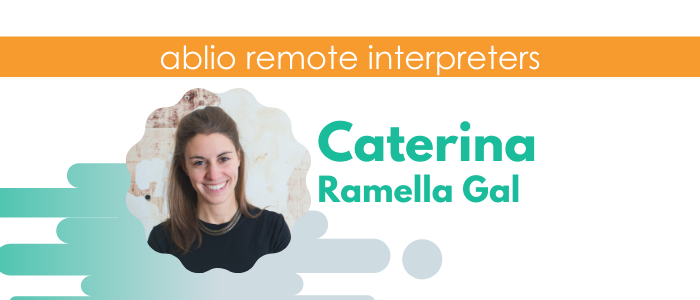 Even though I have just started working, I am sure to say that for ten years I have never stop thinking that this job was ideal for me, for the passion it gives to me and the willingness to do better.
Indeed, when I was a child (when you start dreaming about the future) I was sure that once adult I would have become a paediatrician of a missionary congregation of nuns and by this certainty I'd been enchanting whoever was asking me the routine question: "what do you want to do when you grow up?".
My confidence increased hand in hand with my height, though in the long term some little seeds were planting within my plans for the future; first for simple liking, then fascinated and charmed, my attraction for foreign languages arose. I don't know what exactly was the drive that helped me choosing the school for interpreters but now I'm satisfied with that choice.
Once concluded this three-year Bachelor's degree programme, I enrolled in IULM University in Milan, to attend the Master Degree in Conference Interpreting and Translation; during these two years I discovered and appreciated the study of foreign languages as a vehicle to create relation. This is exactly what I've been fascinated by: relationship.
My real passion has always been the contact with people, people that do not look like me that much, people living totally different situations compared to mine and speak different languages. Therefore, among various courses, I had the opportunity to study for a couple of months in Spain, in the UK and to travel to Tanzania, where I taught English in an orphanage within a mission of Rosminian sisters. I've been asked to myself what merit could have an interpreter able to identify himself with the situation, able to live it and then to boost trust in who is listening and/or speaking; this is who I would like to became: an interpreter that deserve confidence.
I think that the profession of the interpreter, especially in simultaneous translations, is very difficult, but it could be even more difficult without passion.
Only think of how fundamental his role could be, how a situation could change if it's just "translated" and not "interpreted". This is what I dream about; this is what pushed me studying English, Spanish and partly Arabic; the opportunity to be helpful to people that cannot understand each other, that cannot "interpret" each other.
So "don't stop me now…" I would like to work for embassies, international organizations, engaging with world. So far however, I will appreciate if you grant me a little of your confidence entrusting some tasks to me.
After all, only struggling high results can be reached and these results inevitably go through small things. I think that, especially for a freelance, networking is fundamental, working together.
For this reason, I think that working for Ablio could represent an advantage, an opportunity both to know new colleagues and to learn from them and to always look out to the world, being updated about market performances and about new ways to do our job.
Therefore, I think that ablioconference represents a new drive for our profession, which employs technology by facilitating our services in a simple and dynamic way.