New Ablioconference web app release for multilingual virtual events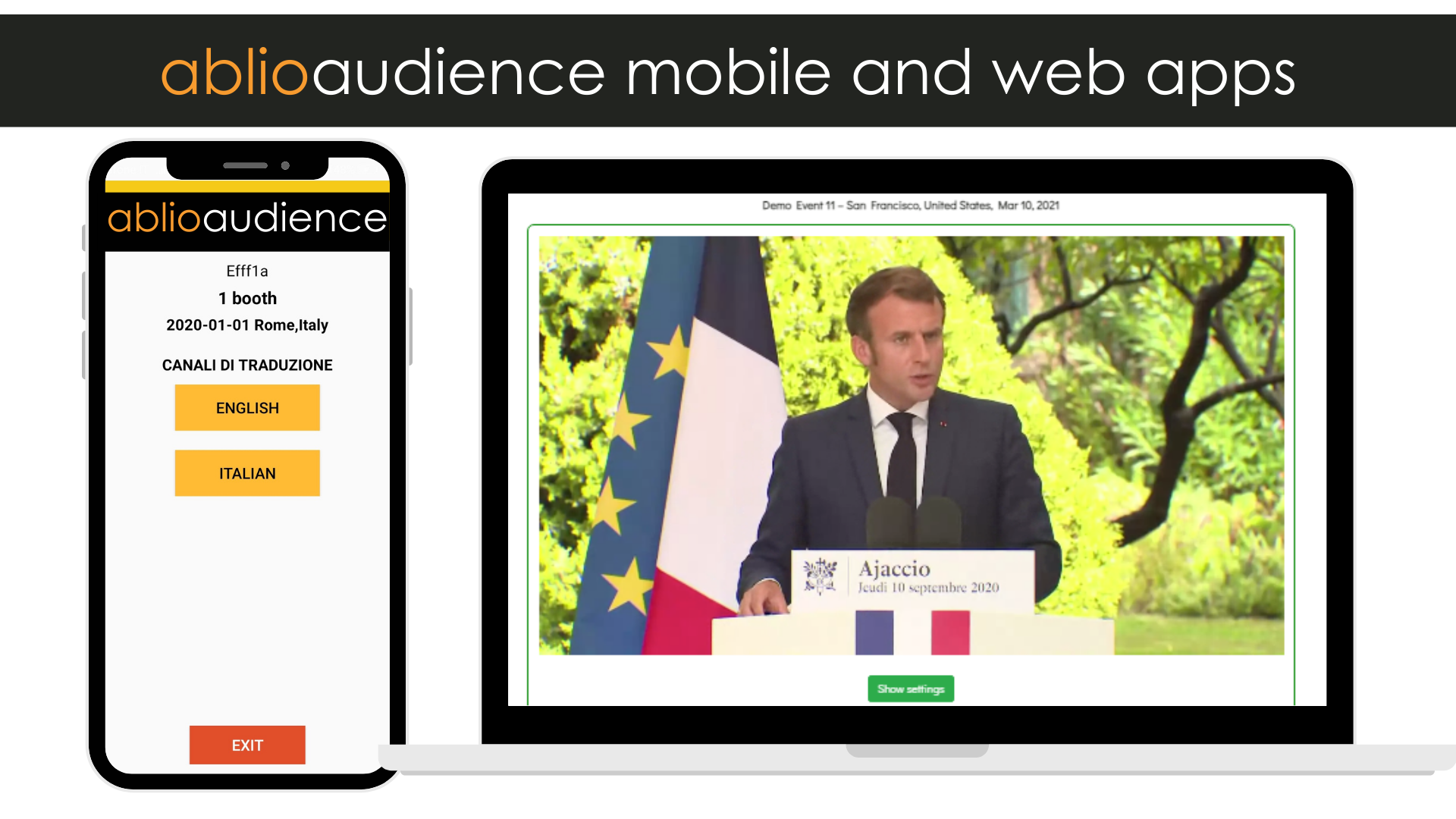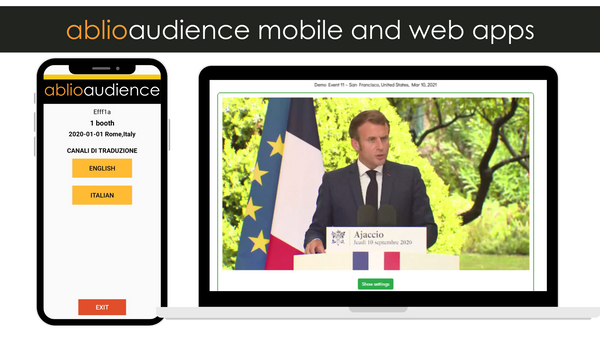 ROME, ITALY, 20 MAY 2021 - Ablio, the leading provider of cutting-edge language solutions and on- demand interpreting services, announces the release of its new web app for its Ablioconference simultaneous interpreting platform.
This handy new app allows event participants to receive both the original audio/video content of their event and their choice of translation channels by accessing a single web page on their computer or smartphone. This innovative web app enhances the listening options already available within the Ablioconference platform by offering event managers the ability to transform any kind of meeting or event that is being held on a commercially available video conferencing platform into a multilanguage streaming video experience.
Besides being made available as a stand-alone app, it can also be easily embedded into the most popular virtual events platforms, giving event participants the ability to experience live multilanguage conferences along with all available functions such as registration, instant chatting, polling, and Q&A.
Giulio Monaco, Ablio's CEO, states that "as the entire events industry progressively shifts towards a virtual mode of working, managers are requesting better solutions that will allow them to conveniently and effectively engage with their remote audiences. The suite of tools and services offered by our Ablioconference platform responds effectively to current demands for a smooth and high-quality multilingual event experience, especially in these times of virtual meetings and events. Our goal is to continue to develop our platform to fully meet the needs of the times as global communications modalities continually evolve."
The web app is immediately available to all Ablioconference account users. It can be accessed within the event setup panel, where it can be evaluated and tested for free. Customers have the option of handling the entire interpreting service flow by themselves while operating the platform in self-service mode. Alternatively, they can request the turnkey services performed by Ablio's network of service operators, who will gladly set up and manage the operations on behalf of Ablio's clients.
About Ablio
Ablio is a global provider of language interpretation tools and services. Using state-of-the-art IT and telecommunication technologies, it has created tools and service platforms that are supported by its world-wide community of professional interpreters - who make language interpretation services readily available to the public anywhere. By combining its patent-protected state-of-the-art technology with the services of its high- quality interpreting team, Ablio can provide economical solutions for meetings and events in any context:
Ablioconference simultaneous interpreting solutions for virtual, hybrid and on-site events, where organizers manage the entire service flow from end-to-end
Ablio remote interpreting services for multilanguage conversations, where customers are connected remotely to live interpreters through the Internet, telephone or mobile devices – available anywhere at any time.