Mihai Bledea - Romanian, French, Italian, Haitian Creole, Moldovan Interpreter and Translator
Mihai Bledea - Romanian, French, Italian, Haitian Creole, Moldovan Interpreter and Translator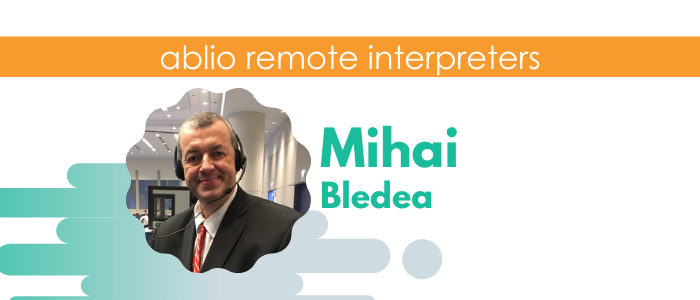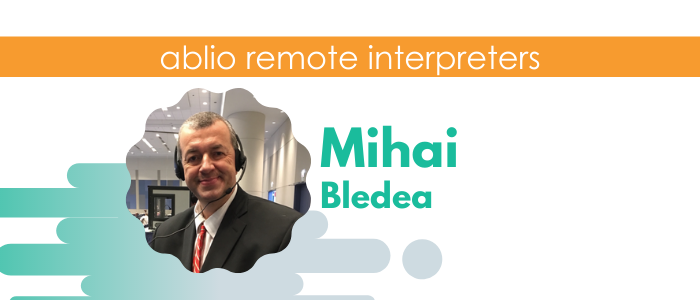 I am a multilingual-interpreter with project management client experience, federal, state and county court interpretation with the Federal Court of Interpreters downtown Chicago, Lake, DuPage or McHenry Courthouses, combined with healthcare medical interpretation and translation work with Northshore Medical Group, Rush University, Lutheran General Hospital, Alexian Brothers or Cancer Treatment Centers of America in Illinois.
Expertise at translation and revision of different types of EU related texts with the European Commission, European Economic and Social Committee, European Court of Auditors, Translation Centre for the Bodies of the European Union, Luxembourg, European agencies and public institutions, after spending my first 10 years in an European working set.
I am also a Certified Cleared Linguist, federal court interpreter and skilled translator (English, European French, Italian, Romanian, Canadian French, Moldovan, Haitian Creole, African French, Polynesian, Tahiti and Mauritius French, Gypsi Romani and Hungarian).
A multi-skilled, reliable, task focused translator with a proven ability to translate written documents from a source language to a target language. A can do approach learner, who can absorb new ideas and can communicate clearly and effectively with people from all social and professional backgrounds. Well-mannered, articulate and fully aware of global diversity and multicultural or ethnical specific issues. Fluent in local dialects, knowledgeable in phonetics, pronunciation,terminology.
Being certified by ABLIO allows me to be ready for simultaneous interpretation projects and on demand requests from potential clients.
Learning from ABLIO's Interpreter Manual, excellent material related to Remote Simultaneous Interpretation in a Virtual Remote Interpretation and Simultaneous Remote Interpretation mode, allowed me to familiarize with all the complexities of assisting businesses for their conferences, meetings, discussions or planning while allowing them to have a seamless language experience by bridging the linguistic gaps and allowing perfect communication and exchange of ideas.
My dream of becoming an interpreter was deeply rooted into my parents' profession, both worked as foreign language teachers, so it seemed natural and meaningful to me to follow into their footsteps.
As I manage to speak multiple languages and view the world as flat, where the communication moves across without barriers, keeping my linguistic acumen current and pronunciation closest to native tongue is an important aspect of my own personal development and continuous improvement.
Potential clients can rely on my professional knowledge and hire me as to experience a perfect carrying of the message across, either in a consecutive interpreting, simultaneous interpreting or sight mode, which I have constantly perfected in my 30 years of professional experience.
As a new technology, Remote Simultaneous Interpretation allows clients these days to continue their business meetings, development activities or conferences, without sacrificing the quality of an in person, on site, interpreter, while saving costs and expenses on the long run without sacrificing the quality of the multilingual communications, due to ABLIO's platform uniquely designed with both clients and interpreters flawless communication in mind.