Helene Popp - German/English/French/Spanish Interpreter And Translator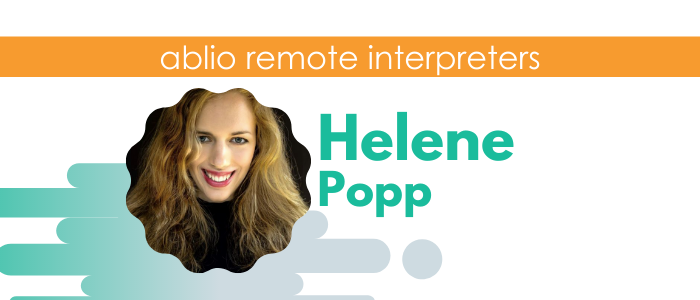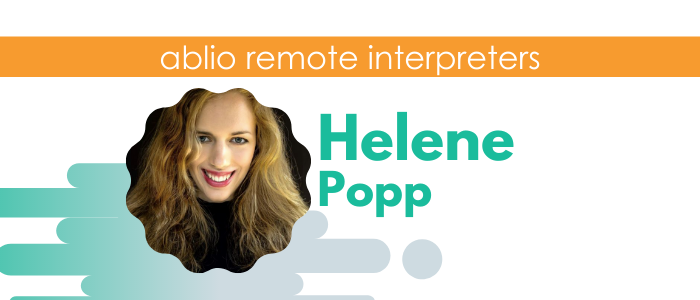 I am Helene Popp, a conference interpreter and translator based in Manchester, UK. My native language is German and my other working languages are English and French (active) as well as Spanish (passive).
I graduated from the University of Manchester with an MA in Conference Interpreting. Prior to that, I completed a BA in Translation Studies in Innsbruck, Austria. Having successfully completed the first two years of a medical degree, I have been able to specialise in medicine, pharmaceuticals and nutrition. I translate as well as interpret medical market research interviews, which provide me with interesting insights into the latest research in oncology, haematology and a variety of other fields.
More broadly, I have interpreted at various conferences in other areas such as European Work Council meetings, group kick-offs and marketing events. What I enjoy most about being an interpreter is the variety of topics I am confronted with, which allows me to expand my knowledge and broaden my horizon every day. In addition to my qualifications in languages and medicine, I trained in musical theatre and continue to pursue amateur dramatics, which has enhanced my ability to communicate confidently. I think remote interpreting is a fantastic way to enable more people to benefit from interpreting services. There is not always enough room or budget to install booths and bring interpreters on site and especially in times like these it's important to enable people from all over the world to keep communicating, regardless of their linguistic abilities.
What makes Ablioconference stand out from other remote interpreting platforms is that it was developed by, with and for interpreters.
It provides us with everything we need to deliver high-quality interpretation.
Moreover, Ablioconference enables the clients to book their interpreters directly, thus cutting out the middle man. Not only is this more cost efficient, it also means that the clients can choose their preferred linguists and ensure consistency.
I am very excited to be one of the first interpreters to work on this promising new platform and can't wait for the first clients to discover the wonders of online meetings.